Sea and City
on your Doorstep
Enjoy the splendour of the beautiful North Dublin coastline at Prospect Bay, an exclusive collection of apartments in the heart of Clontarf, Dublin 3. Located at the start of one of the neighbourhood's most prestigious roads, Mount Prospect Avenue, Prospect Bay offers quite simply the best of every world – close proximity and easy access to Dublin City Centre, the beautiful coastline on your doorstep and excellent amenities within walking distance.
North Dublin's golden coastline is quite literally your back garden at Prospect Bay. Residents can enjoy the wonderful promenade, which runs along the coast from Sutton and Howth right through to edge of Dublin City Centre. Stay fit by biking to work along the convenient cycle path, or make an evening stroll the ideal way to end each day. And with Dollymount Strand, Burrow Beach and the white sands of Portmarnock all within a easy reach, beach days will become a staple of your weekends.
Park Life just
across the Road
Prospect Bay residents can enjoy the best of local amenities, all just a short stroll away. Directly across the road is one of Dublin's most popular parks, St Anne's Park, home to the famous rose gardens, a café, several pitches and playing fields, tennis courts and a weekend market.
Prospect Bay residents can enjoy the very best of the life in the Great Outdoors. Several sports clubs are well established in the immediate area, including tennis, GAA, rugby and cricket. Try your hand at kite surfing, paddleboarding or kayaking at Dollymount Strand, take up sailing at Clontarf Yacht Club or make a daily sea swim part of your morning routine. And for golfers, there are several golf clubs within a short distance, including St Anne's, Royal Dublin, Clontarf, Sutton, Portmarnock and Howth.
Connect
to the City
with Ease
A Thriving
Community
Nearby attractions include St. Annes Park and Dollymount Strand - the beautiful beaches of Sutton, Howth and Portmarnock are also just a short drive away.
There is an incredible selection of world class golf courses nearby, including St. Anne's Golf Club, Royal Dublin Golf Club and Clontarf Golf Club.
Excellent location with a wonderful lifestyle right on your doorstep- an easy commute to Dublin City Centre.
Sports enthusiasts are well catered for with Clontarf Cricket and Rugby Club, Clontarf Yacht Club and Clontarf GAA club nearby.
Dublin Port
Royal Dublin Golf Club
Dollymount Strand
Dollymount, Wooden Bridge
St Annes Park
Clontarf Promenade
Cycle Path
Quality Bus Corridoor
ABustling Neighbourhood Atmostphere
Several excellent restaurant, bars and cafés are within walking distance. Enjoy brunch at Bay Restaurant, a popular choice after a stroll on the promenade, or head to Vernon Avenue, location for several well-regarded eateries, including Picasso and Hemmingways.
Stock up on essentials from Nolan's Supermarket, also on Vernon Avenue, and meet a friend for a pint in Connolly's Pub (known by locals as The Sheds) – all minutes from your new home.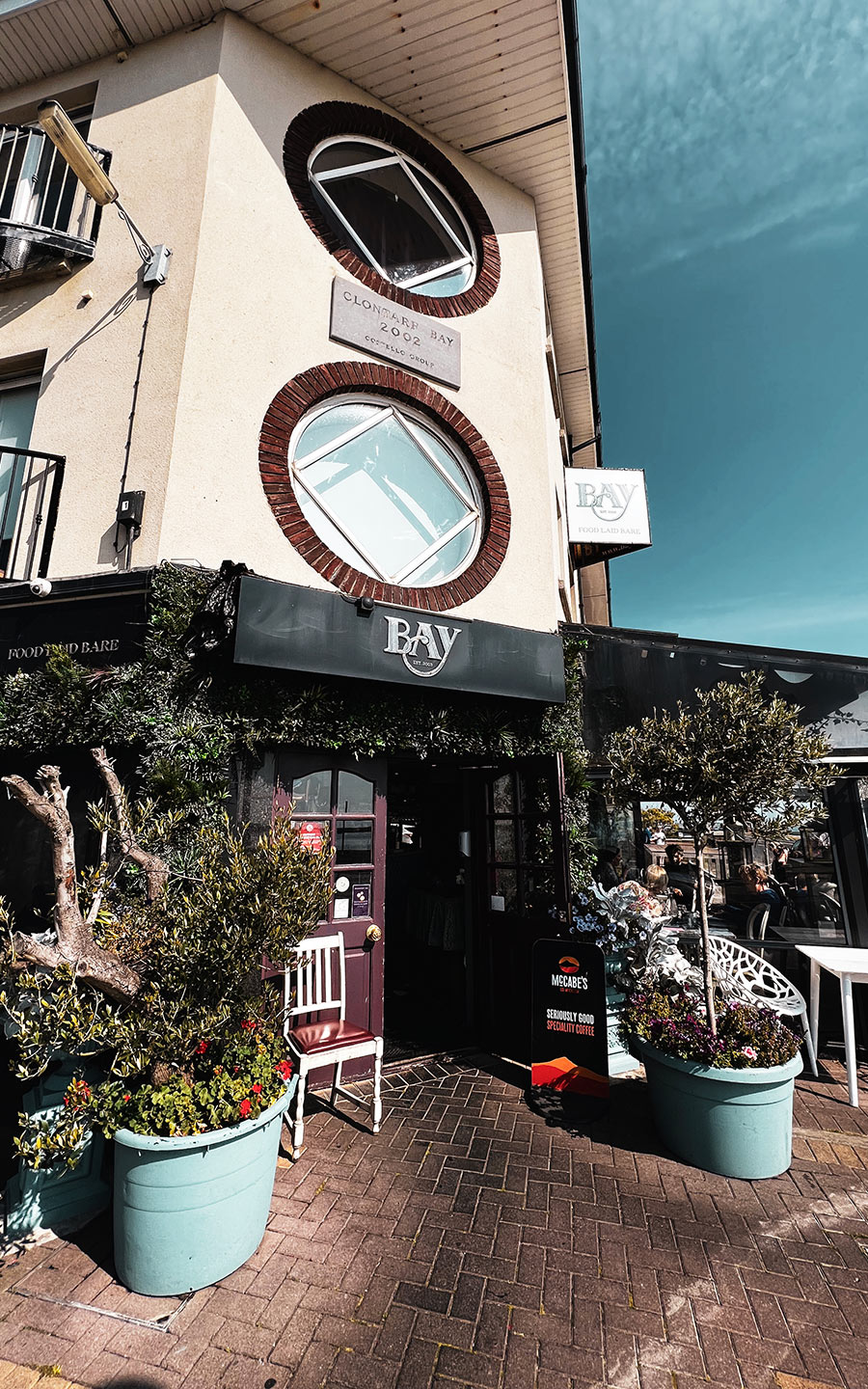 You'll be spoiled for choice with an impressive selection of eateries and bars in Clontarf.
Fabulous Amenities
just minutes from your new Home
The peaceful coastline at Clontarf is made even more special by the neighbourhood's close proximity to Dublin City Centre. Just six kilometres away, the City Centre can be reached quickly and efficiently via a wide variety of transport options, including bus, car and the DART commuter service. The popular cycle path on the seafront is currently being extended to offer a safe and fast way to bike all the way into the city – an easy way to travel and keep fit.
For motorists, Clontarf is highly accessible. The M1 and M50 interchange can be reached within minutes, which opens up Ireland's motorway network. If travelling further afield, Dublin Airport is just ten kilometres away. And if you prefer to let someone else do the driving, Connolly train station and Busáras main bus station are only six kilometres away, offering excellent public transport connections to every part of Ireland.